2008 Awards & Announcements
---
Research Featured in the Financial Post
Dec. 9, 2008
Graduate student, Angie Wu, was featured in the Dec. 8th edition of the Financial Post in the article, "Grad students are a little-known resource."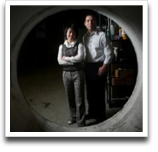 The Innovation Synergy Centre in Markham held an event for small business on November 27th to inform small businesses about the benefits of working with universities and utilizing graduate students in projects. Dr. Lian Zhao attended on behalf of the Office of Research Services (ORS) and talked about how the relationship with the Pressure Pipe Inspection Company (PPIC) was initiated, how beneficial it has been to Ryerson and how companies might work with universities.
Angie Wu, who recently completed her MASc. in electrical engineering under Dr. Zhao's supervision, gave the graduate student's perspective while Xiangie Kong, technical manager at PPIC, related his positive experience of working with Ryerson University.
Photo: Brett Gundlock/National Post
---
Governor General Gold Medal
Nov. 1, 2008
At the Fall 2008 Convocation, held on October 29, Ryerson's first engineering PhD graduand, Dr. Yifeng He was awarded Ryerson's sole Governor General Gold Medal for his excellent academic performance and outstanding research outcomes and impact.
This is the third such medal awarded to an ELCE graduate student; the previous winners were April Khadmei (winner in 2006) and Serhat Erkucuk (winner in 2003).
---
IEEE Toronto Section Awards
Nov. 1, 2008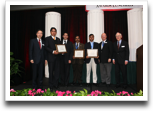 In the 2008 IEEE Toronto Section AGM and Awards Night the Department of Electrical and Computer Engineering swept the awards in various categories:
The 2008 Chapter Chair award was presented to Dr. X. Fernando for his outstanding contributions to the IEEE Communications Society.
Drs. D. Androutsos, A. Anpalagan and S. Krishnan were presented with appreciation awards for outstanding service in membership development, CCECE conference organization, and chapter activities.
The Department was recognized as the "Friend of IEEE" for its long-term sustainable contributions and support for IEEE activities.
---
Advanced Health Technologies Research Funding
Sep. 20, 2008
Drs. Sri Krishnan and Victor Yang received funding from the Ontario Research Fund for Infrastructure for Advanced Health Technologies. Dr. Krishnan (SAR Lab) was awarded $100,654 for developing non-invasive diagnostic tools and Dr. Yang was awarded $125,000 for developing an exciting emerging medical imaging technology.

Dr. Krishnan studies signals emitted by the human body to predict and prevent illness, using mathematical techniques known as biomedical signal analysis. Ventricular fibrillation (VF), a wildly irregular heartbeat, is the leading cause of sudden cardiac arrest. If there was a way to accurately predict VF before it happened, better interventions could be developed. Dr. Krishnan's research may well change how injuries and diseases are diagnosed and treated in the future, and could lead to better designed diagnostic and screening tools and assistive devices.

At an unique Bioengineering and Biophotonics Laboratory, Dr. Victor Yang and his research team are using recent engineering advances in telecommunications to design, prototype and manufacture innovative fibre optical probes for an exciting emerging medical imaging technology called Doppler optical coherence tomography. The advantages of the device Dr. Yang proposes to develop, are that they're small, relatively inexpensive, minimally invasive and they allow doctors to see blood vessels in living patients in real-time. In addition to the obvious health benefits resulting from Dr. Yang's work, he proposes to overcome current manufacturing limitations faced by research groups, which affect the size of clinical trials and the adoption of new technologies.
Adapted from the Ontario Ministry of Research and Innovation press release.
---
New Faculty
Sep. 14, 2008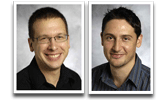 The Department welcomes two new faculty members: Dr. Matthew Kyan with expertise in machine learning for multimedia and biological data and Dr. James Smith with expertise in bio-mechatronics joined the Department in August 2008.
---
IEEE Awards
Sep. 14, 2008
Congratulations to Dr. Xavier Fernando for winning the IEEE Communications Chapter of the Year award.
Congratulations to Dr. Dimitri Androutsos for winning the Professor of the Year awards from IEEE Student Branch Ryerson and ELCE Graduate Students' Association.
---
MOST CITED PAPER AWARD
July 21, 2008

Congratulations to Tas Venetsanopoulos for winning the "Most Cited Paper Award" for his co-authored paper "Vector Sigma Filters for Noise Detection and Removal in Color Images" in the Elsevier Journal of Visual Communication and Image Representation.
---
Canada Research Chair in Bioengineering and Biophotonics
July 16, 2008
I am pleased to announce that Dr. Victor Yang, MD-PhD, P.Eng., an Assistant Professor in the Department of Electrical and Computer Engineering is our latest Tier 2 Canada Research Chair in Bioengineering and Biophotonics.
Victor Yang received his Honors BASc in Engineering Science Biomedical option from the University of Toronto in 1997. He then went on to complete a Masters in Electrical and Computer Engineering in 1998 with a focus on biophotonics. After which, Victor entered the University of Toronto MD-PhD program where he completed his PhD in the Dept. of Medical Biophysics in 2004. His major research interest was in the field of Doppler optical coherence tomography. He was the recipient of fellowship grants from the CIHR and NSERC for his research work. He also received the Governor General's Gold Medal award for the best PhD thesis for post-graduate work at the University of Toronto. Victor is currently an assistant professor at the Department of Electrical and Computer Engineering in Ryerson University. His current research interests are Optical coherence tomography, intra-operative fluorescence imaging, photodynamic therapy, and micro-machined electro-mechanical probes/catheters, with funding from NSERC, CIHR, Cancer Care Ontario, and Canadian Foundation of Innovation.
On behalf of the Faculty, we offer our sincere congratulations to Dr. Yang and wish him all the best with his future research endeavours.
Dr. Stalin Boctor, PEng
Dean
---
2008 Faculty and Graduate Student Awards
May 30, 2008
On behalf of the Department I would like to congratulate the winners of the Department's research and GA/TA awards and also the faculty members who secured external research grants in the 2007-2008 competitions.
Sincerely,
Sri Krishnan,
Chair, ELCE
Best TA/GA Award Winners for 2007-2008

Michael Hall (ELE 639 and ELE 744) and Raymond Phan (ELE 532 and ELE 404)

Graduate Research Excellence Award (GREA) Tier 1 ($5,000 each)

Helen Cheung, Alexander Hamlyn, Lin Wang, Yifeng He, Mariusz Milewski, Adrian Tang

Graduate Research Excellence Award Tier 2 ($2,500 each)

Dominic DiClemente, Matija Milosevic, Reza Javaheri, Omar Falou, Valeri Kirischian, Lamiaa Khalid, Raymond Phan, Osama Bazan, Xiaofeng Wang, Sina Zarei

Ontario Graduate Scholarships (OGS), Masters ($15,000/year each)

Son Ngo, Elnaz Shokrollahi

Ontario Graduate Scholarships (OGS), Doctoral

Omar Falou, Yifeng He, Valeri Kirischian, Raymond Phan, Omid Talakoub

Natural Sciences and Engineering Research Council (NSERC) Postgraduate Scholarships ($21,000/year)
NSERC Innovation Challenge Internal Award Winners

Robin Castelino, Adrian Tang

NSERC Undergraduate Student Research Awards ($5625 minimum)

Ameri, Bei, Harnarain, Hao, Masteri Farahani, Wael, Zereshki
Canadian Institute for Photonics Innovation (CIPI)
Canadian Photonics Fabrication Research (CPFR)

Drs. X. Fernando and X. Gu

Canada Research Chairs (Tier 2)
Canada Foundation for Innovation (CFI) - LOF
Ministry of Transportation
NSERC Idea to Innovation
New NSERC Discovery Grants
NSERC Collaborative Research and Development (CRD)
NSERC Strategic Networks Grant on Wind Energy

Drs. B. Wu and B. Venkatesh

Ontario Centres of Excellence
Ontario Partnership for Innovation and Commercialization (OPIC)
Ontario Research Fund
---
Department Welcomes Two New Faculty
Jan 29, 2008
The Department welcomes two new faculty members: Bala Venkatesh, with expertise in power systems, and Victor Yang, with expertise in biomedical instrumentation.
---
Engineering Institute of Canada Fellow
Jan. 22, 2008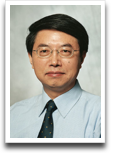 Congratulations to B. Wu for being selected as a Fellow of the Engineering Institute of Canada, an award which is recognized as the most prestigious amongst Canada's engineering societies. The EIC, Canada's oldest engineering organization, was founded in 1887 and represents 12 national Canadian engineering societies. EIC Fellows are recognized for their excellence in engineering, their services to the profession and to society at an annual rate of less than 0.1% of the membership.
---
From Idea To Innovation
Jan. 16, 2008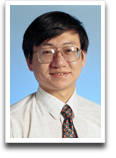 Congratulations to X. Zhang in securing the Phase 1 of NSERC Idea to Innovation funding for the project, "An Intelligent Information Retrieval and Processing System for Financial Databases". The proposed research will refine and apply innovative signal and information processing technologies to develop software to search and process financial databases to improve the flexibility and quality of financial data analysis in investment decision making. Prof. Zhang is working with Wall Street professionals, marketing experts, and University of Chicago economists to develop a demo prototype.
---
Research featured in the Toronto Star
Jan. 10, 2008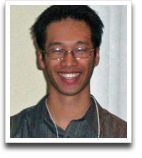 Raymond Phan, a graduate student researching image retrieval based on content analysis, was featured in an article by Shauna Rempel titled, "A better way to find Internet images", in the Jan. 10th edition of the Toronto Star.
... Phan has developed an Internet search engine that lets a user search for logos, trademarks and other images by submitting images instead of text descriptions...

Phan built up a database of images to test his search engine. When you submit an image, the search engine "extracts all the information on colour and texture and compares the information to the database," says Phan, then shows the best match as the result...

"You're not searching by key word. You're analyzing the content of the image instead," Phan explains. "So you're getting rid of the ambiguity."
---
Best Paper Award
Jan. 7, 2008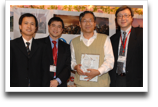 Ph.D. student Y. He and faculty researchers Drs. L. Guan and I. Lee were awarded the Best Research Paper Award for "Video Multicast over Wireless Ad Hoc Networks Using Distributed Optimization", at the 2007 Pacific-Rim Conference on Multimedia. Congratulations for this well deserved recognition.