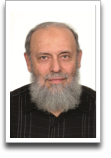 June 30, 2022 • ALI HUSSEIN RETIREMENT
• Our colleague and department family member, Ali Hussein, is retiring as of July 1, 2022. Ali has been with the department since September, 1989, as an instructor, and as a professor since September 1994. In those years, Ali was our electromagnetics, field theory, and microwaves expert who also used the CN Tower for lightning research (which was
featured
in prominent news media)! He taught thousands of students, mentored numerous graduate students, and impacted many colleagues during his time with us.
Please join me in congratulating Ali on his much-earned retirement and relaying our gratitude for his dedication to our department.
Jan. 31, 2022 • RETURN TO IN-PERSON LEARNING
•
Winter 2022 Return to In-Person Learning
The University campus opened for a return to in-person learning with a message from the Dean of FEAS.