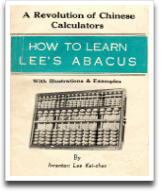 These are scans from the pages of the manual that accompanies the Lee Kai-chen abacus. Pages 36 to 40 (more division examples) will be scanned when I have time.
I am indebted to Professor Emeritus Augustine Lee, for his generous donation of both the manual and abacus.
David Bagley performed OCR on these scans and converted them to HTML.
More photos of this abacus.
An interactive Java version of the Lee Abacus is available on David Bagley's site.