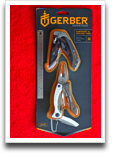 My needs for an every day carry (EDC) are quite modest: opening cardboard packages, cutting tape and plastic tie-wraps, tightening the odd Philips screw and prying something open. The tool also has to be lightweight.
Any additional features the multi-tool might have are a bonus.
The photo on the right and the following one, below, are of the packaging. The ruler may be used to determine the actual size.