The Popsicle Stick Abacus by Edward Barinque
Since I first began teaching, I've become facinated with the abacus as a manipulative tool for teaching calculations and place value. Because abacuses or abaci were either not readily available or too expensive to purchase for 30 students, I created a prototype for an abacus which is simple to make and inexpensive. I've had students as young as 2nd grade make and learn to use their own abacus.
This page contains the instructions needed to make your own popsicle stick abacus. It's a lot of fun and can be very educational.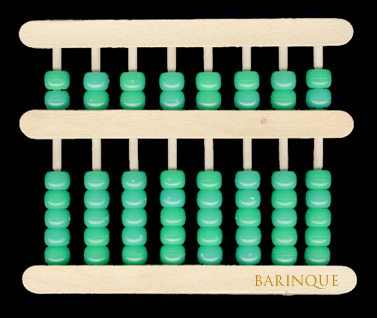 Materials needed
9 popsicle (craft) sticks
12" wooden dowels, 1/8" diameter
Plastic pony craft beads
Glue
Estimated time to make is approximately 1 hour.
Procedures
Cut a single dowel into thirds, each piece measuring approximately 4 inches. The number of wooden dowels you use depends on how many place values you want on your abacus to be. I usually have my students make four place values. (The abacus in the picture has eight place values.)
Place the tips of the cut dowels on one popsicle stick, centered and equidistant from each other. Mark their places with a pencil mark.
Squeeze lines of glue over the pencil marks. Carefully place the dowel tips onto the glue.
After the dowel tips dry, thread two pony beads on each dowel. These will be your "Heaven beads".
Place a second popsicle stick underneath the dowels about 3/4" down from the first popsicle stick. This will serve as the center bar which separates the "Heaven" beads from the "Earth" beads. Mark the dowel positions with pencil marks and squeeze glue lines over these. Glue the dowels onto this stick. Be careful to not let any beads slide toward this stick and accidentally get glued to it.
After the glue on the second popsicle stick has dried, thread five beads on each dowel. These will be your "Earth" beads.
Place a third popsicle stick underneath and at the tips of the dowels. Repeat the gluing procedures as stated above.
After the glue has dried, get three more popsicle sticks. Line up a popsicle stick over each of the three you glued the wooden dowels to. Eye it to make sure they're positioned properly. Next, glue these sticks down where you placed them earlier.
Take three more popsicle sticks. Glue these directly onto the three you glued in step 8. You're now looking at the back of your abacus. You'll see that these extra sticks lift the abacus off the table so the beads don't rub against it during use.
Flip the abacus over. Congratulations! Enjoy your abacus!