Engineering Institute of Canada Fellow
Jan. 22, 2008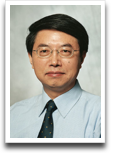 Congratulations to B. Wu for being selected as a Fellow of the Engineering Institute of Canada, an award which is recognized as the most prestigious amongst Canada's engineering societies. The EIC, Canada's oldest engineering organization, was founded in 1887 and represents 12 national Canadian engineering societies. EIC Fellows are recognized for their excellence in engineering, their services to the profession and to society at an annual rate of less than 0.1% of the membership.
From Idea To Innovation
Jan. 16, 2008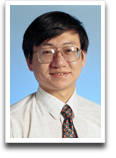 Congratulations to X. Zhang in securing the Phase 1 of NSERC Idea to Innovation funding for the project, "An Intelligent Information Retrieval and Processing System for Financial Databases". The proposed research will refine and apply innovative signal and information processing technologies to develop software to search and process financial databases to improve the flexibility and quality of financial data analysis in investment decision making. Prof. Zhang is working with Wall Street professionals, marketing experts, and University of Chicago economists to develop a demo prototype.
Research featured in the Toronto Star
Jan. 10, 2008
Raymond Phan, a graduate student researching image retrieval based on content analysis, was featured in an article by Shauna Rempel titled, "A better way to find Internet images", in the Jan. 10th edition of the Toronto Star.
... Phan has developed an Internet search engine that lets a user search for logos, trademarks and other images by submitting images instead of text descriptions...

Phan built up a database of images to test his search engine. When you submit an image, the search engine "extracts all the information on colour and texture and compares the information to the database," says Phan, then shows the best match as the result...

"You're not searching by key word. You're analyzing the content of the image instead," Phan explains. "So you're getting rid of the ambiguity."
Best Paper Award
Jan. 7, 2008
Ph.D. student Y. He and faculty researchers Drs. L. Guan and I. Lee were awarded the Best Research Paper Award for "Video Multicast over Wireless Ad Hoc Networks Using Distributed Optimization", at the 2007 Pacific-Rim Conference on Multimedia. Congratulations for this well deserved recognition.
2007 Student Academic Achievement Awards
Dec. 7, 2007
A photo album of the undergraduate and graduate Student Academic Achievement Awards Ceremony, which took place on Nov. 21 at Oakham House.
Sri Krishnan Appointed Canada Research Chair
Dec. 5, 2007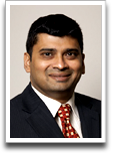 Sri Krishnan has been appointed Canada Research Chair in Biomedical Signal Analysis. The announcement was made on November 29, 2007 by Jim Prentice, Minister of Industry and Minister responsible for the Canada Research Chairs Program.
"The Canada Research Chairs Program helps to position Canadian universities as world-renowned research centres, and supports the training of a new generation of innovative scientists and highly qualified personnel," said Chad Gaffield, President of the Social Sciences and Humanities Research Council and head of the Canada Research Chairs Program's steering committee. "The research funded by this program benefits the public, private and non-profit sectors by helping them respond to social, political and economic issues of concern to Canadians."
The press release announced $109.7 million in research funding for the The Canada Research Chairs Program.
IEEE Fellows
Nov. 16, 2007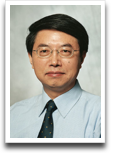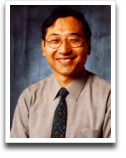 It is a historic day for this Department in which two of our colleagues have received IEEE Fellowships— with great pleasure I would like to congratulate Drs. Bin Wu and Ling Guan for this outstanding and remarkable recognition. The IEEE President's message reads:
"Recognizing the achievements of its members is an important part of the mission of the IEEE. Each year, following a rigorous evaluation procedure, the IEEE Fellow Committee recommends a select group of recipients for one of the Institute's most prestigious honors, elevation to IEEE Fellow.

It is my great pleasure to inform you that the IEEE Board of Directors, at its meeting on November 18, 2007, elevated you to IEEE Fellow, effective January 1, 2008."
In addition, Dr. Wu's citation reads, "for contributions to high-power converter technology and adjustable speed drives" and Dr. Guan's reads, "for contributions to image and multimedia signal processing".
Best regards,
Sri Krishnan
Industrial Research Chair Ceremony
Nov. 5, 2007
The official ceremony to instate Bin Wu as NSERC Industrial Research Chair in Power Electronics, an appointment that was announced last year, took place on Nov. 2nd. Dr. Wu is one of the world leaders in the field of Power Electronics and is Ryerson's first Industrial Research Chair.
This appointment was founded upon a successful industrial collaboration with Rockwell International, which was represented at the ceremony by Navid Zargari and Steve Rizzo both managers at the company. The success of Dr. Wu's partnership with Rockwell International was acknowledged in 2002, with a NSERC Synergy Award.

(L-R): Steve Rizzo (Rockwell), Bin Wu,
Barbara Muir, Sheldon Levy (President, Ryerson)

Bin Wu delivering
his acceptance speech.

(L-R): Front: Barbara Muir (Director, Research Partnerships, NSERC),
Bin Wu, Sri Krishnan, Steve Rizzo (Rockwell); Back: Navid Zargari
(Rockwell), Mo Lachemi (Assoc. Dean, FEAS)
The role of Industrial Research Chairs is to, "assist universities in building on existing strengths to achieve the critical mass required for a major research endeavour in science and engineering that is of interest to industry; and/or to assist in the development of research efforts in fields that have not yet been developed in Canadian universities but for which there is an important industrial need."
For more details, please see Ryerson University's media coverage of the ceremony.
2006-2007 FEAS Awards
Oct. 6, 2007
Based on the recommendations of each of the respective committees, I am pleased to announce the winners of the 2006-07 Faculty Teaching Excellence Awards, the Faculty Research Excellence Awards, as well as the newly created, Best Graduate/Teaching Assistant Award.
Teaching Excellence Award Winners
Dr. Mohamed Lachemi, Civil Engineering
Dr. Karl Kumaradas, Physics
Dr. Saeed Zolfaghari, Mechanical and Industrial Engineering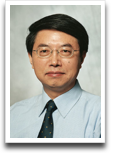 Research Excellence Award Winners
Dr. Ali Lohi, Department of Chemical Engineering
Dr. Ziad Saghir, Department of Mechanical and Industrial Engineering
Dr. Bin Wu, Department of Electrical and Computer Engineering
Best Graduate/Teaching Assistant Award Winners
Engineering: Raymond Phan, Electrical and Computer Engineering
Science: Omar Falou, Physics
An awards ceremony will be scheduled in early November to honour the recipients of the above awards. Many excellent applicants were considered by all of the Awards Selection Committees, and the competition was difficult.
On behalf of the entire Faculty, I would like to express my sincere congratulations to the award winners, and to thank each of the committee members for their dedication and hard work.
Sincerely,
Dr. Stalin Boctor, P.Eng. Dean of the Faculty of Engineering, Architecture and Science
IEEE Ryerson Professor of the Year
Jun 18, 2007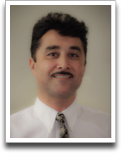 Dr. Reza Sedaghat has been voted as the 2007 IEEE (Ryerson) Professor of the Year.
A number of faculty were nominated by the students in the Electrical and Computer Engineering program and then a vote was held to select the winner, who the students believe surpasses the duties of a normal professorship, which include unparalleled teaching ability and the extended duty of care to the students.
2006-2007 Faculty Research Grants
Jun 18, 2007
Congratulations to the following ELCE faculty members in securing external research grants in the 2006-2007 competitions.
NSERC Industrial Research Chair

Dr. B. Wu

New NSERC Discovery Grants

Drs. X. Fernando, A. Hussein, M. Jaseemuddin, K. McConville, R. Sedaghat, B. Wu, T. Yang, and A. Ye

New NSERC RTI Grants

Drs. Mohammadi, T. Yang and L. Zhao

Solar Buildings Research Network Grant

Dr. B Wu

CFI New Initiatives Fund

Dr. L. Guan

BioDiscovery Toronto

Dr. S. Krishnan

Ontario Partnership for Innovation and Commercialization (OPIC)

Dr. L. Zhao
2006-2007 Graduate Student Awards
Jun 1, 2007
On behalf of the Department I would like to congratulate the following winners of the Department's research, seminar and GA/TA awards.
The winners were announced at the Departmental meeting on May 31.
Sincerely,
Sri Krishnan
Best Graduate Assistant/Teaching Assistant

Sudeshna Pal (ELE 792, ELE 639), Raymond Phan (COE 328, ELE 532)

Best Graduate Research Seminar Presentation

Hossein Rahanama (PhD 1st year)

Graduate Research Excellence Award (GREA) Tier 1 ($5,000 each)

Lin Wang, Yifeng He, Mariusz Milewski, Sumandeep Virk, Reza Javaheri

Graduate Research Excellence Award Tier 2 ($2,500 each)

Dominic DiClemente, Omar Falou, Adrian Tang, Valeri Kirischian, Mohammad Aram, Xiaoli Li, Osama Bazan, Omid Talakoub, Ouarda Nedjah, Xiaofeng Wa

Ontario Graduate Scholarships, Masters ($15,000/year each)

Sanjay Ailani, Christopher Conne, Alexander Hamlyn, Raymond Phan

Ontario Graduate Scholarships, Doctoral

Dominic DiClemente, Yifeng He, Valeri Kirischian, Sara Sharifian Attar

Natural Sciences and Engineering Research Council (NSERC) Postgraduate Scholarships ($17,500/year each)

Alexander Hamlyn, Christopher Conne

NSERC Undergraduate Student Research Awards ($5625 minimum)

Louis Wael, John Chia, Benjamin Lee, Peyman Shokrollahi, Elnaz Shokrollahi, Daniel Sheehan
Young Engineer Achievement Award
May 29, 2007
Dear Colleagues,
It is with great pride and great pleasure that I inform you that Dr. Sri Krishnan, Associate Professor and Chair in the Department of Electrical and Computer Engineering has been recognized by Engineers Canada with the Young Engineer Achievement Award at its 35th Annual Awards Gala in Winnipeg on May 26th. The award was presented to Sri Krishnan in recognition of his contributions as an educator, administrator and researcher. The full details of the award were published in the May 25th issue of the Globe and Mail.
Engineers Canada (http://www.engineerscanada.ca/), formerly Canadian Council of Professional Engineers, is the national organization of the 12 provincial and territorial associations that regulate the practice of engineering in Canada and license the country's more than 160,000 professional engineers.
On behalf of myself and the Faculty, we offer our sincere congratulations to Sri on this well-deserved recognition and acknowledgement of his outstanding accomplishments and wish him success with all of his scholarly and professional endeavours.
Sincerely,
Dr. Stalin Boctor, P.Eng.
Dean

Toronto Star features Design Project
Apr 17, 2007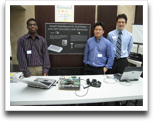 The April 17th edition of the Toronto Star featured the Engineering Design Project titled, Wireless Handheld Smart Info-Pad for Museums and Art Galleries, by 4th-year students Alexander Maslej, Vincent Lee and Siva Kumarasami, and supervised by Dr. X. Fernando.
A Smart Info Pad (SIP), is essentially a virtual tour-guide. All art galleries, museums and other public buildings need a way to tell visitors what they are looking at. A visitor to a building would obtain a SIP at the entrance to the building, select a language and their age group and as they toured the building, the SIP would inform them of what they were looking at and answer any questions they would have. The points of interest and exhibits in the building would be "tagged" with RFID (radio frequency indentifiers) transponders which the SIP would interrogate to know which object or location the visitor was observing.
CN Tower Lightning Study
Mar 14, 2007
Ali Hussein's research on lightning strikes on the CN Tower, published in the November 2006 issue of the Journal of Electrostatics, was mentioned in the March/April 2007 issue of National Geographic magazine and the Nov. 26, 2006 issue of the Toronto Star newspaper.
FPGA Rapid Prototyping Systems
Jan 26, 2007
Congratulations to Drs. Vadim Geurkov, Adnan Kabbani, Eddie Law, Ivan Lee, Lev Kirischian, and Fei Yuan for being awarded $139,440 for 6 FPGA rapid prototype systems from Canadian Microelectronics Corporation.
Associate Editor for IEEE Transactions on Multimedia
Jan 25, 2007
Congratulations to Ling Guan, Professor and Canada Research Chair for being nominated as the Associate Editor for IEEE Transactions on Multimedia. Besides this journal, Dr. Guan is also an Associate Editor for the IEEE Transactions on Circuits and Systems for Video Technology, and IEEE Computational Intelligence Magazine. He also serves as a member of the Editorial Board for the IEEE Signal Processing Magazine.
PEO's Order of Honour
Jan 16, 2007
I am most pleased to inform you that Dr. Gosha Zywno has been inducted to the Professional Engineers of Ontario's Order of Honour, rank of Member, in recognition of her volunteer service contributions over the past almost two decades.
On behalf of myself and the Faculty, we offer our sincere congratulations to Gosha on this honour and well deserved recognition and offer her continued success with all of her scholarly and professional endeavours.
Sincerely,
Dr. Stalin Boctor, P.Eng.
Dean
One of 25 Great Ideas in 2006
Jan 16, 2007
The Toronto Star daily quoted Sri Krishnan's biomedical research on screening osteoarthritis as one of the 25 Great Ideas for 2006. The full research was published in the March 2006 issue of the IEEE Transactions on Biomedical Engineering.
"CMOS Current-Mode Circuits for Data Communications"
Jan 16, 2007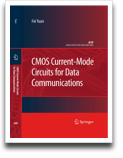 CMOS Current-Mode Circuits for Data Communications, by Fei Yuan, is a valuable reference work for circuit design engineers and hardware system engineers. This book addresses the analysis and design principles of CMOS current mode circuits and their applications for data communications. The analytical methods and design principles are based on characteristics of MOS devices applied to current CMOS technologies.
Major topics include: design techniques for current mode circuits, electrical signaling for high speed data links, current-mode transmitters and receivers, switching noise and grounding of mixed mode circuits, a comparison of voltage-mode with current-mode circuits, ESD protection, and additional related topics. Examples are given of CMOS technologies from leading semiconductor companies and analyzed using the latest computer-aided design tools by leading design companies.